EdiPax has been active in providing high quality, up-to-date e-business solutions to their customers for several years.
The main field of competence has been developed especially in the segment of B2B applications. This document presents the latest solution we developed for BRICO Belgium business partners.
The EdiPax for BRICO application is based on three key parts:
Connectivity
EDIFACT convertor
Tools for the data analysis
The application can import EDIFACT ORDERS message according to the specifications of UN/CEFACT, EAN International and BRICO Belgium. All business partners of BRICO Belgium will get the opportunity to receive their ORDERS through this electronic mean instead of sheets of paper.
This fact will open a wide spectrum of new opportunities for you. Not only that you will no longer be forced to input the ORDERS items manually in your information system, but you will finally get much better control over your ORDERS and this will help you to make more qualified decisions concerning your production.
The EdiPax for BRICO application covers all the needs related to the introduction of this new electronic standard.
Companies, independently on their size or field of operation, will be able to:
Import EDIFACT invoices
Convert them into meaningful data
Search through this data
Browse and view different levels of detail
Store and Archive the data
Perform various analytical operations on them
The offer provided by EdiPax is scaled for different types of users.
Light users can benefit from a totally free online application which allows them to receive, view and print received messages and also to display several basic reports and statistics. This limited version requires only installed free version of Microsoft Office Web Components and a free EdiPax license.
On the other hand, users who require more functions and deeper analytical tools, can purchase a professional version, which has on the top of the basic version a strong analytical engine and a true server which makes the handling of EDIFACT ORDERS much easier. Many standard reports, charts and tables are included. They should cover all the needs of most type of businesses. Besides this, there is a possibility to adapt these standard reports directly by the users and also to open the data in an Office application such as MS Excel to make some final touch ups, should these be desirable. This version requires the possession of a license of MS Access 2002 and the purchase of EdiPax for BRICO PRO license.
EdiPax for BRICO provides an important source of data for the company Business Intelligence. All data can be exported into the company's main information system such as SAP through provided connectors.
Using this service will create immediate savings after eliminating the manual input, processing and storing the paper orders. The accuracy of information is guaranteed as the frequent source of errors, manual dataentry, has been replaced by automated computer service. The statistics to analyze the ORDERS are ready at hand on demand. In just a few moments, they are ready to be displayed or printed out.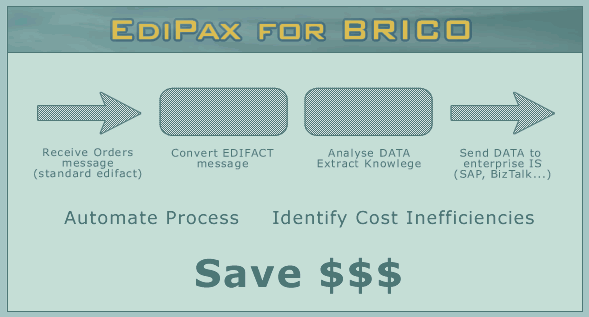 EdiPax for ORDERS represents an automated and smooth process of importing BRICO electronic orders into the company's information system, and transforming the electronic data into knowledge.